Meet the Artist
Lisa Maria Stofsky x Klint
Driven by her passion for blending feminine colors with soft shapes, Lisa Maria Stofsky, the talented Danish Artist, Designer & Creator, captivates audiences with her unique artistic vision. From creative ceramics and vibrant posters to expressive paintings and tufted wall hangings, Lisa fearlessly explores various forms of artistic expression.
Embracing Details and Femininity
In an exclusive collaboration with Klint, Lisa Maria Stofsky has created three remarkable artworks.
Lisa's creative repertoire encompasses a wide range of mediums, including ceramics, colorful posters, expressive paintings, and tufted wall hangings. With a dominant focus on details, softness, and femininity, her creations reside at the intersection of positive and negative color fields, evoking a sense of curiosity in the viewer. Lisa's artistic endeavors embrace the boundless possibilities that the world of art offers.
SHOP LISA MARIA STOFSKY X KLINT
At the core of Lisa Maria's artistic expression lies a deep love for details that not only support her works but also make them expressive as a whole, weaving stories that resonate with viewers. Her artistic style defies confinement to a single path of self-expression. Lisa's journey of self-discovery in finding her distinctive style and form is ongoing. She constantly pushes boundaries, fueled by her curiosity and eagerness to explore new artistic horizons. Her art invites viewers to embark on their own exploration, connecting with the narratives she presents.
"The Birth of Venus" draws inspiration from Sandro Botticelli's iconic work and the Greco-Roman myth. Symbolizing a woman's ascent from difficult times, the ladder emerging from the shell reflects strength and resilience. This artwork, influenced by the Danish #MeToo movement, was created for the 2021 International Women's Day, celebrating empowerment and solidarity.
"Sunray" transports us into Lisa's dream of visiting Japan, known as "the land of the rising sun." The artwork embodies the ethereal beauty of silhouettes and experiences within the warm embrace of red sun rays. Lisa's intention was to capture the essence of her travel dream, inviting viewers to embrace the enchantment of the moment.

"Sun Moon & Stars" draws inspiration from the fundamental elements of life. Lisa Maria explores the gentle, curved movements of everything around us. Reflecting on the interconnectedness of positive and negative fields, she presents life as a chessboard where illumination by the sun, moon, or stars determines the nature of each space.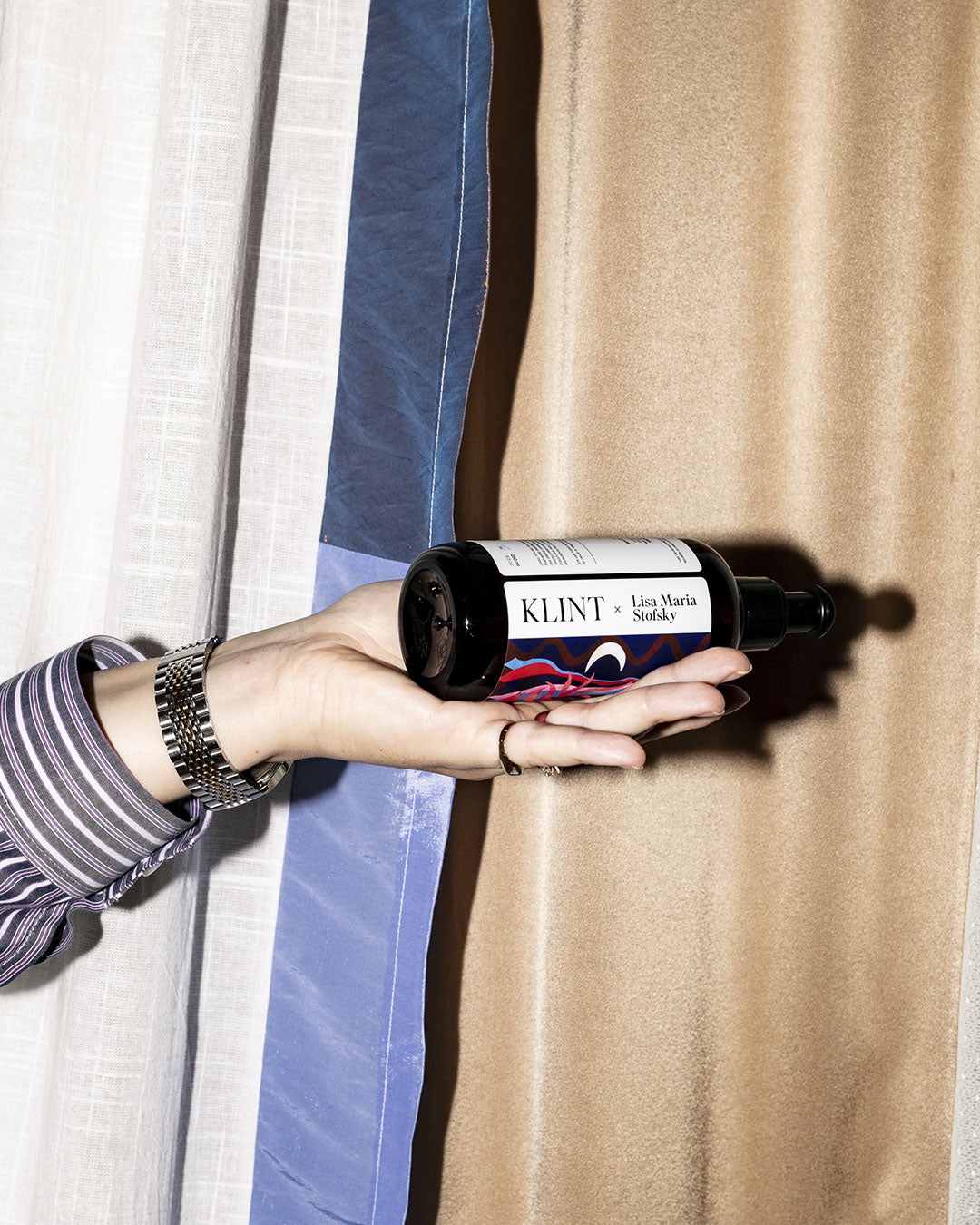 Stofsky's Artistic Realm
Indulge in the captivating world of art. Experience the harmonious blend of feminine colors and soft shapes as she takes you on a journey through her unique artistic vision. Each artwork is a testament to her boundless creativity, inviting viewers to explore the stories and emotions they inspire.
Explore the three series by Lisa Maria Stofsky made in collaboration with Klint. At Klint, we support up-and-coming artists. By choosing Klint, customers directly support our artists and their careers. From every sale on this store, the artist will receive 5% of the revenue generated from their artwork. Join us in fostering artistic talent.
Shop LISA MARIA STOFSKY X Klint